Main directory
QL-Recorder
Programming
Colours & Notes
Literature
Links
What's new?

Jörg Sigle's
Emulator Ultra failing capacitator in power supply fix

To start with a legal statement: Registered trademarks are the properties of their owners; I do not imply that E-mu Ultras typically should need the fix described herein; the provided information is intended only for scientific or amateur use; please keep in mind that trying to service your E-mu on your own may void your warranty; please keep in mind that at least the system power supply and the backlight power supply on the motherboard may produce dangerous voltages. I do not accept any liabilities for the results of your own action, even if you might claim that I should have provided some inspiration. If you continue to read, this is on your own risk, and if you think that the contents of this page might violate any law in your country or any right or anything else that they should not violate, please be informed that I do not allow you to read any further. If you should know that there might be a legal problem with this page at all, please do not hesitate to send me a free (!) e-mail with further information in order to enable me to comply with any necessary regulations. And finally, if somebody should open up a business doing this procedure on many Ultras or if some hardware designers should not have known this solution or its relevance to specific existing or future designs (at E-mu or elsewhere), and thus this page should be a contribution to someone make a huge profit - please feel free to share a bit of it and support my projects described elsewhere on this web site. :-)
Please note: Switching power supplies carry extremely dangerous voltages, even after they have been removed from the power outlet! If you are not specifically trained, do not attempt any work in this place. Leave the diagnosis and repair of the problem described below to some qualified person!

Problem
After some months, I switched on the E-mu but it did not boot. After some switching-off-and-on cycles, it would finally come up and run stable. This experience recurred whenever the machine was switched off some time.
Diagnosis
As I had removed the fan very early, and we had a warm summer, and the machine felt as if it needed some attempts of powering it up before a proper power-on-reset signal would be generated, I guessed that the power supply might have suffered from heat.
So I checked voltage levels and found +5 V failing to come up completely for the first few tries of switching on the machine.
Examination of the hardware showed that the second largest capacitor in the power supply had a rounded top, indicating that it had gone bad.
The E-mu power supply printed circuit board removed from the machine:
Look at the various capacitors and locate the one with the rounded top!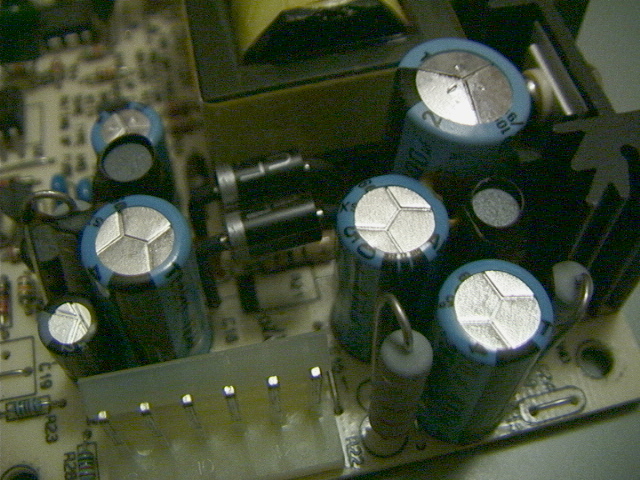 The defective capacitor from the side: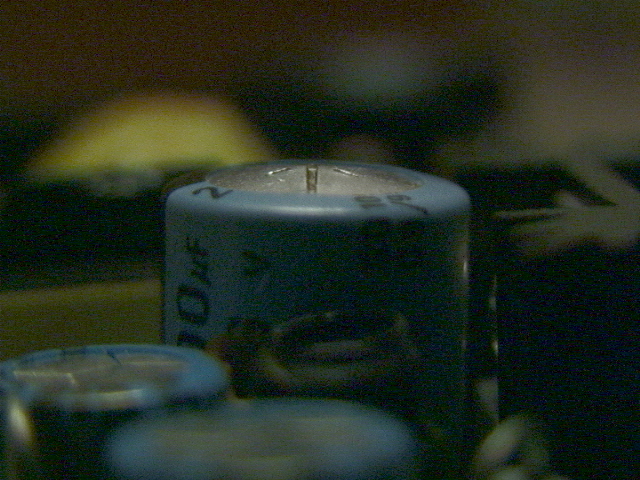 Such capacitator tops are designed as security valves, so when the capacitor gets hot, the top opens, and the contained fluid may emerge instead of boiling on towards an explosion. Nevertheless, this process might end in a mess.
This failing capacitor sits next to a semiconductor with a relatively large heatsink, and is surrounded by other parts, so it is prone to being heated when there is no cooling fan. It is well known that cacacitors fail earlier in warmer environments, so it is probably advisable to leave the fan installed or find another method of cooling the device.
The Solution
After replacing the bad capacitor by a new one of similar specification (including the extra high operating temperature range), the machine worked again like a charm. :-)
Here are some supporting measures:
Don't wear these shoes that charge your body with static electricity while walking over the woolen carpet and give your friends that nice electric experience. Your Emulator might decide not to talk to you any more after you play such a trick on him only once. I guess that the manual of the Emulator or any other electronic machine gives you more instructions with this regard, and if you don't know what this is about, and decide not to look it up, well, then just don't proceed with anything else described on this page.
Before opening the case, I covered the display of my Emulator with a piece of some the adhesive transparent foil that is made to protect books. I won't remove it any more for some time, I guess.
The little transformer located closely to the front of the motherboard provides the high voltage for the display backlight. I would not touch any related pins and when re-assembling, would try to place the connecting wires in some distance from motherboards, RAM and other low voltage electronic parts.
Once again: Warning! Danger!
While the little transformer and the little switching power supply for the display backlight may give you unpleasant or deadly shocks, the large switching power supply for the whole machine may do so even more easily. So please obey my warnings, and leave diagnosing and repairing this problem to a qualified person.
Please note: Any power supply, when connected to the mains outlet, has wires that carry live voltage. Touching them accidentally, or unintentionally connecting them to a metal case, may be hazardous. Moreover, switching power supplies may carry extremely dangerous voltages, even after they have been removed from the power outlet! If you are not specifically trained, do not attempt any work in this place. Leave the diagnosis and repair of the problem described above to some qualified person! This remark is no kidding, switching power supplies may generate potentials of more than 1000 V at high frequencies - touching the wrong place may hurt you very unpleasantly, or even kill you.
Related pages:

Main directory
QL-Recorder
Programming
Colours & Notes
Literature
Links
What's new?

This Web page was prepared by myself,
and so were all included graphic elements.
© 14.11.2005, 23.03.2009 Dr. med. Jörg M. Sigle, Kunstvolle EDV & Elektronik